Countdown of the best websites to watch sex-cams
real story
In the wild world of websites with live webcams with nudity, masturbation and sexting, sex-toys it can be hard to find the best website to watch naked girls and guys. Erotic Audit went spent months to prepare this comprehensive list of the best websites we can recommend to watch live sex cams and erotic shows.
---
The main idea behind live sex cams is to get aroused and cum together with a sexy girl or a gentle man who would show their private parts over a webcam and touch their genitalia with tempo and precision that would lead to climax - in simple words, they would jerk off on the camera while showing it to you online in real time. If you want some toys to be involved in the process, like dildos, vibrators, vaginas (also know as flesh-lights) - you can donate, tip or buy a gift, or go into private chat to as the webcam model to grant your wishes. Maybe you want them use different holes? Maybe you want a girl to suck that dildo like they would if it was your penis? Or maybe you want the hard-fuck their pussy as if you would violently steamroll in her smashing her vagina with your gigantic dick? Yes - everything above is all about live sex cams.
And now, when are on the same page, let us present you the top list of the best live sex cams out there according to our audits and reports that Erotic Audit team has gathered during last year.
#10 LiveJasmin
Being one of the oldest and most recognizable live sex cam website, LiveJasmin is actually getting worse and worse lately. Once it was the place to go for the webcam models that wants to make a good money streaming their solo-sex over the camera to rich strangers. LiveJasmin paid good money for their models rewarding them with wealthy monthly checks. But now it appears that it is losing popularity and more ambitious and democratic platforms like Stripchat or BongaCams become more crowded and appealing.
LiveJasmin might look like it has really great choice of attractive models: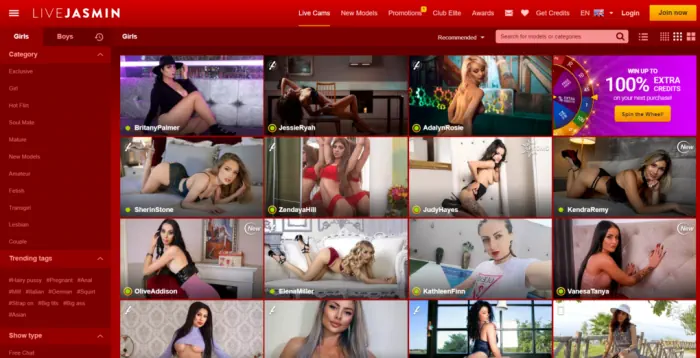 But once you click on any of them you notice that on the video they look not as much attractive as on the photo, so basically - somewhat disappointing to say the least.
Pluses:
Many attractive and professional women
Quite a few good looking men that are ready to satisfy a mature woman
Simple and intuitive design, really fits those who are older and less tech-educated - guys and girls over 40 years old
Minuses:
No amateur webcam models, everyone is working for LiveJasmin
You have to provide a credit card to register
#9 Streamate
If you are looking for the sexy barely dressed girls seducing you for a private chat where they would you all their private parts and play with the sex toys just for you then Streamate is the place to go. Streamate has a lot in common with LiveJasmin as you also would see much nudity and erotic shows for free. On Streamate you also need to pay first and then enjoy the show.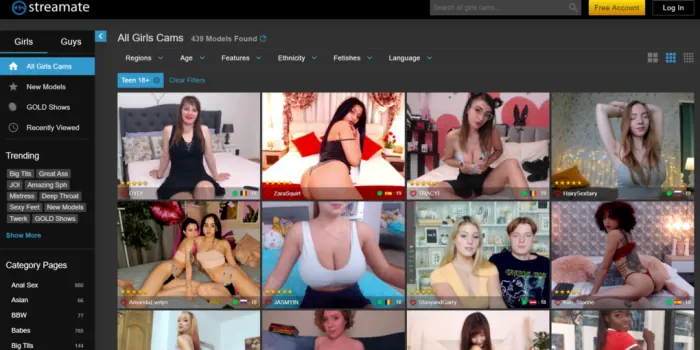 Now your logical questions will be - is it worth to pay beforehand? Well - it depends. Webcam models on Streamate are basically professionals. Some of them are even porn stars, meaning they know exactly what to do to make you cum.
Pluses:
Many professional webcam models that know how to use their sexiness to satisfy your needs;
Great choice of models by region - find cam girls from United states, Asian, Australia, Eastern and Western Europe
Hundreds of Asian, Black, White, Hispanic girls and guys for you choose from
Member reviews for each webcam model and overall rating
Streamate might be a good choice for girls and gays as it has many male webcam models and even some transgenders
Minuses:
You have to make initial payment to try Streamate
Limited information about each webcam model, usually no additional photos or videos for preview
No amateur girls and guys - each webcam model works for Streamate
Read complete review of Streamate by Erotic Audit and other users.
#8 CAM4
Being very similar to Stripchat CAM4 has many live sex cams, with basically real-time porn with webcam models form all over the world. Girls of any age and ethnicity, teens, grannies, mature MILFs, lesbians - all of them can be found on CAM4.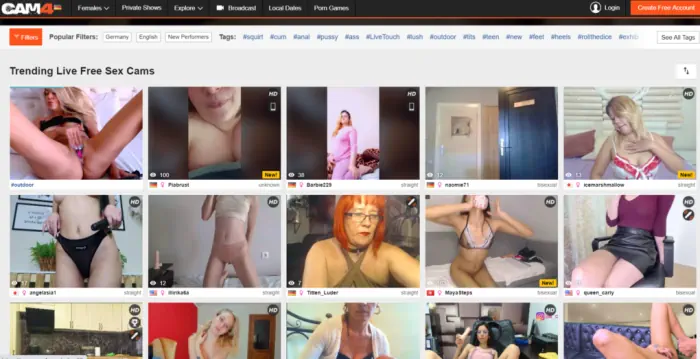 Also on CAM4 ladies can find male webcam models, guys masturbating online and playing with their yummy dicks. Any penis size any skin color and appearance. As well as quite a few transgenders.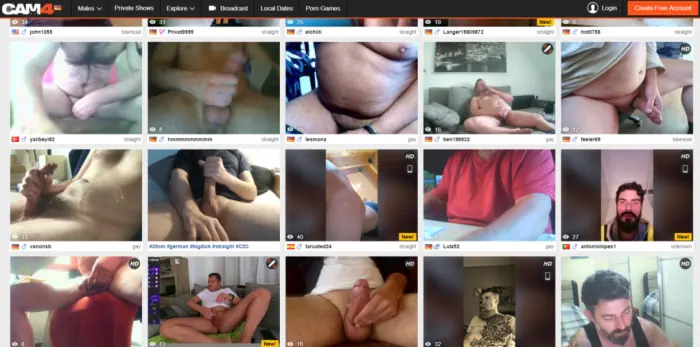 So in terms of sexual diversity and choices of sex shows - CAM4 is a good choice for both males and females.
Pluses:
Great choice of webcam models by ethnicity, age and fetishes
Many guys and transgenders to choose from - great for ladies and gays
Registration is free and you don't have to make initial payment to try it as a registered user
Minuses:
CAM4 shows ads when you want open a chat room
Not many really attractive girls, you have to spend some time to find sexy and good looking girls
Complete and honest review of CAM4 by Erotic Audit and real users.
#7 Xlovecam
Xlovecam has a lot in common with LiveJasmin and Streamate as it is heavily populated with professional webcam models and is focused on teasing and seducing male intriguing them for private shows. XLoveCam's models are mainly young women and ladies, but you can also find there lesbians, girls who like fetishes and even few males and transsexuals. But still - Xlovecam is all about girls teasing, stripping, sexting and playing with sex toys for you.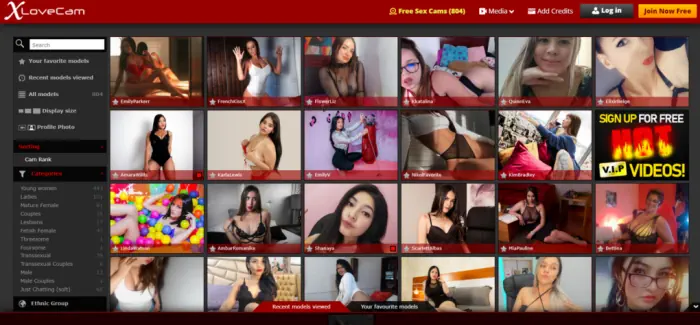 Also Xlovecams is one of my personal favorite cam sites as it has some of the really seductive and sexually appealing girls, even though they are professional webcam models.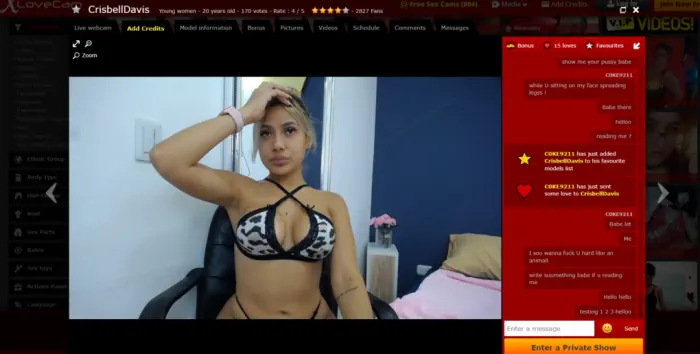 Pluses:
Great place to masturbate online with attractive and seductive girl
Each model usually has nude photos and videos showcasing her work and sexuality
Great design choice and colors that make you feel sexually aroused just by opening Xlovecams
Some girls are masturbating on public webcams without private mode
Registration doesn't require initial payment or credit card. Upon registration XLoveCam give you limited benefits - like view some private videos for free
Minuses:
Some girls are not online, but still listed on the online list
Quality of the videos could be better
Read full in depth review of Xlovecams provided by Erotic Audit and real users.
#6 CamSoda
CamSoda is something in between Streamate and Stripchat as it has both professional webcam models many of whom are young females and mature women, as well as there quite few amateur models who perform solo or in couples. CamSoda as basically any other webcam site is free to watch and if you want to interact with girls, activate sex toys or make personal requests you have to pay and send tips.
CamSoda is very good looking sex cam site and has lots of attractive girls and women. Website is highly interactive and easy to use. Registration is free and doesn't require credit card.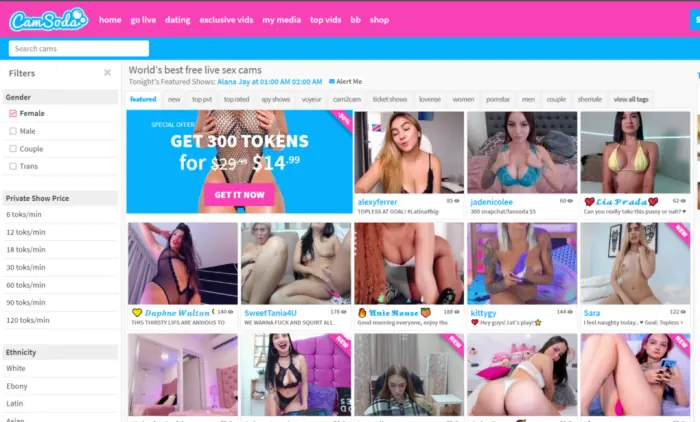 Also on CamSoda you can watch semi-private sex shows by good looking girls, for example you can see how a sexy beauty works with dildo, sucks it, licks it and enjoys herself at the same time.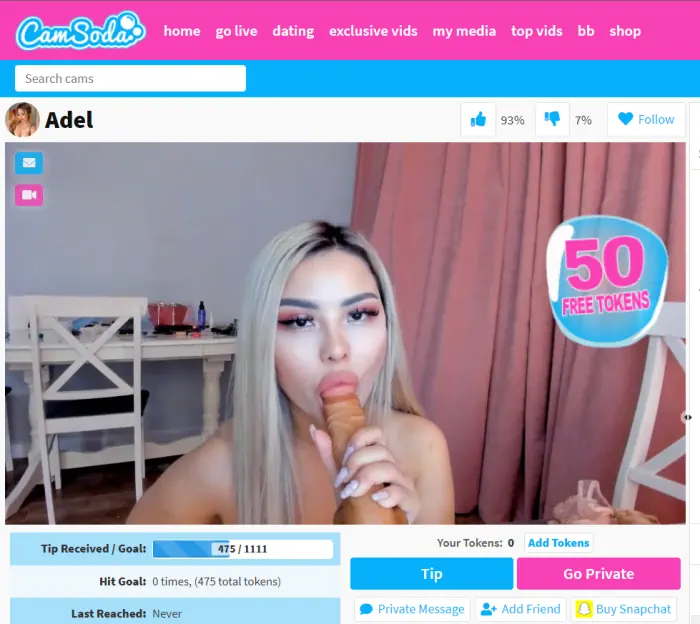 Pluses:
Good choice of attractive and sexy webcam models
Registration is not required and you can watch naked girls and women for free
Great collection of explicit and erotic videos recorded on live sexcams
Minuses:
Few annoying ads and popups that sometimes distract from girls
#5 Flirt4Free
If you want to find live sex cams with really good looking sexy girls with fit body - then Flirt4Free should be the webcam site of your choice. Flirt4Free is basically what LiveJasmin was initially - full of attractive and sexy young ladies that on live video look exactly as they are on the photoshoots. On Flirt4Free you can find both female and male sex cam models as well as some good looking transgenders.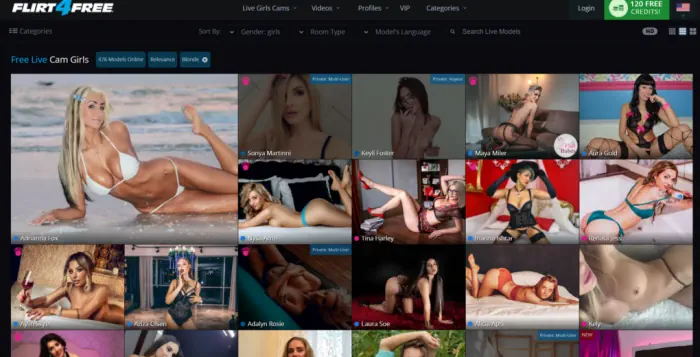 Flirt4Free has lots of different girls from many different countries. You can find Latinas, Asians, Ebony and other exotic girls of any age above 18 years old. Also you can find webcam models that speak specific language, like English, Spanish, Russian or even Japanese and Tagalog as well as some other European and Asian languages. And girls on Flirt4Free are actually extremely sexy and absolutely seductive. Here is one of them in live action: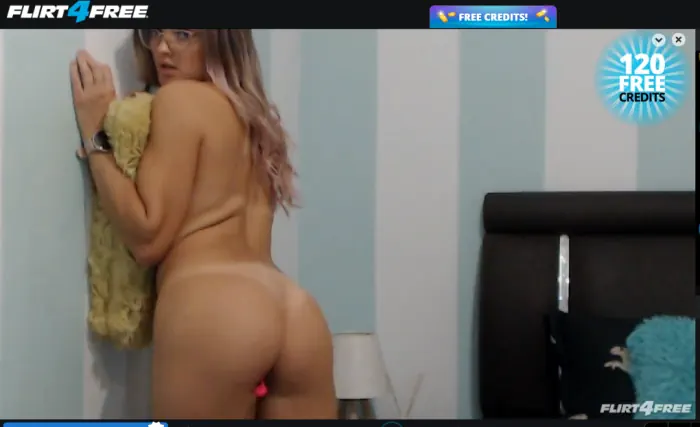 Pluses:
Flirt4Free is full of good looking, sexy and young female webcam models
Has a decent choice of attractive and sexually appealing males and even some transgenders
All webcam models look as good on live video as on the photoshoots - no misleading photos or videos in profiles
Minuses:
Website is a little slow and sometimes it takes long to see a preview of sex room
Continue to the complete review of Flirt4Free.
#4 Stripchat
Just in few years, Stripchat became of the most popular and globally recognizable live sex cam website. Stripchat is basically everything in one place - huge comminute of webcam models with over 3 thousands online at any give moment.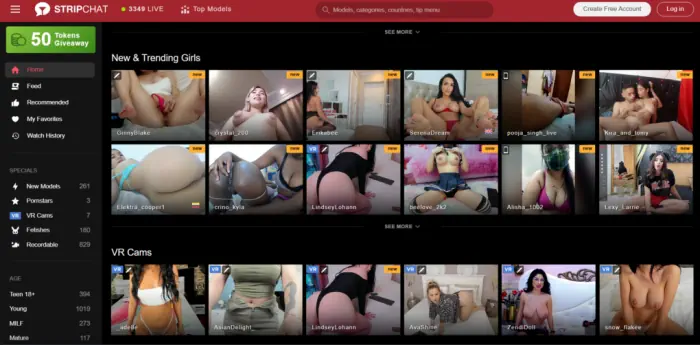 At Stripchat you can find basically anything - young amateur females, teens over 18 years old, Asians, Latinas, Indians, Russians and many many other girls and guys. Also Stripchat is the home for many group sex rooms, couples and fetishes such as BDSM, squirts, girls with hairy pussies or even pregnant, lesbians, mistress, cuckolds, MILFs and many more different live sex shows.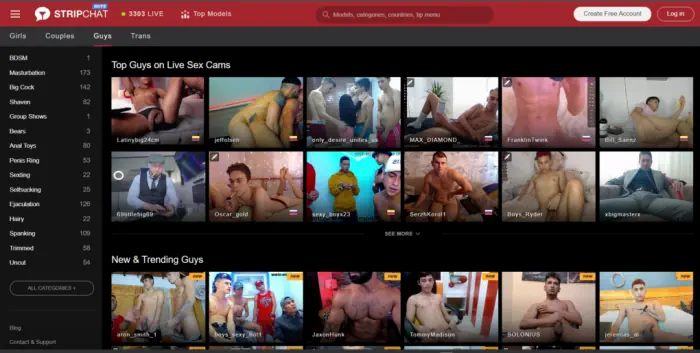 On Stripchat you can also find many guys, both natural and gays. You can watch young looking gentlemen jerking on webcam or guys masturbating together, or maybe even sucking dicks to each other, kissing and drilling assholes.
Yes, Stripchat is a wild place. But it servers the purpose and can satisfy basically anyone. If you prefer sexy and seductive girls with big breasts and nice bodies - Stripchat has a lot of them.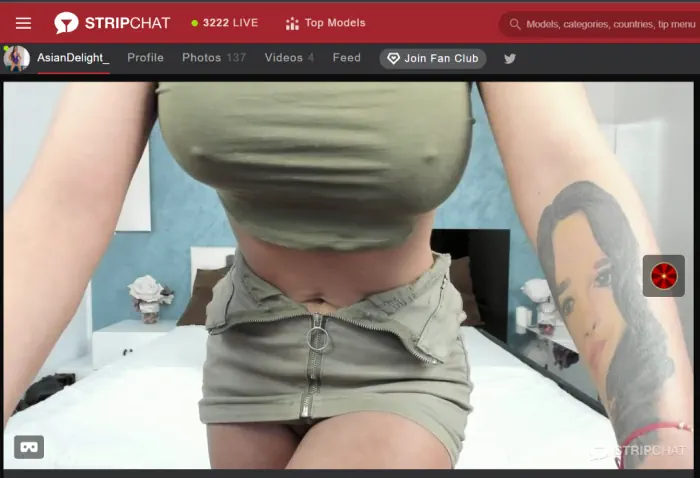 Pluses:
One of the biggest and most popular live sex website with great choice of sex-cam models
Both teasing erotic and borderline live porn shows for free, without registration
Registration doesn't require to make initial payment or even provide a credit card
Stripchat is basically one of the leading sex-cam website and it is honestly hard to find any bad sides for it. We can make up some, but we wouldn't be honest. So we will refrain and suggest you to just enjoy Stripchat and what it can offer to please you.
Also, Stripchat is one of our trusted partners and we can easily recommend it to basically anyone who is looking to have a great live-sex cam time and enjoy sexy girls and guys. Also you can read everything about Stripchat including stories from real users.
#3 BongaCams
BongaCams is strongly established and well-known brand of live sex cams. "Bonga" gives one of the best choice of sexy and young women with one the biggest amount of online webcam models.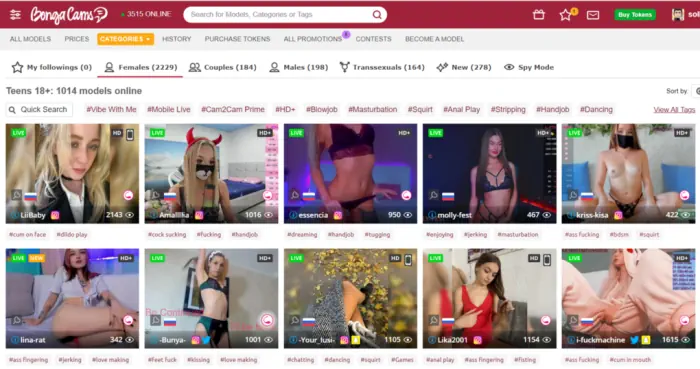 On BongaCams it is extremely easy to find attractive girls both naked or dressed as it is doesn't matter - all of them will make you want to masturbate with them.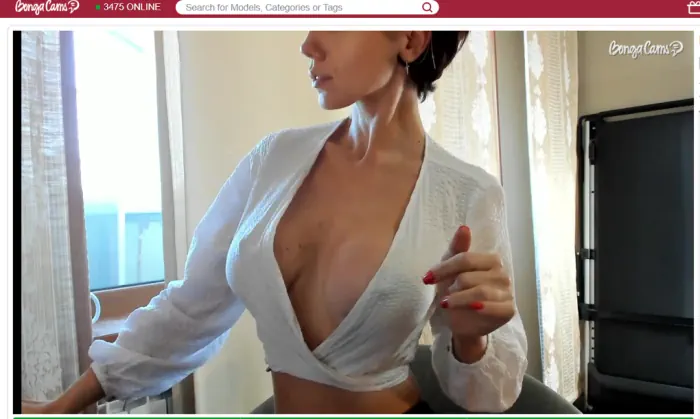 BongaCams is also full of attractive males and transgenders. Straight, gay, bi-sexual - you can find them all on BongaCams.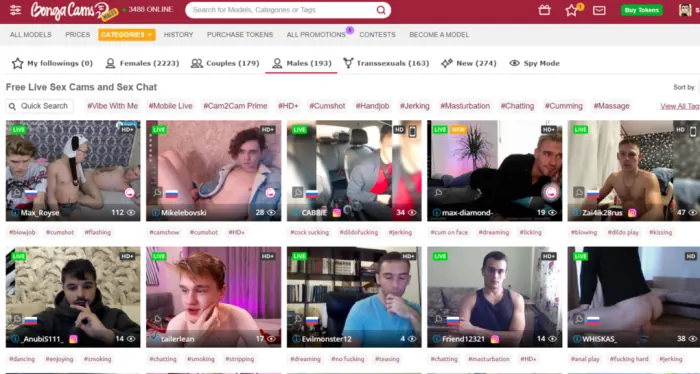 Also on BongaCams it is quite easy to find any specific fetishes - like bondage, squirt, pregnant ladies, grannies, housewives, girls with hairy pussies and many more. Another thing - if you prefer sex-cam models of specific ethnicity or skin color - on BongaCams you can find Asian, Latinas, Ebony, White other girls.
Pluses:
BongaCams is full of attractive young-looking girls with sexy bodies and seducing skills
On BongaCams you can watch both naked girls masturbating or having sex online or dressed girls, striping or teasing on live camera
Good choice of males and transgenders, with more than one hundred online at any moment ready to please any lady
As well as Stripchat BongaCams basically has no downsides. It is basically one of the best live sex cams that has all types of webcam models that can satisfy anyone.
Read detailed review of BongaCams and see what actual users can say about it.
#2 MyFreeCams
MyFreeCams is basically the oldest sex webcam site among all. It was established way before many popular live-sex cams and holds it's ground to this day. MyFreeCams, which is also know as MFC, is mainly a webcam community of attractive girls, who are not just sexy and naturally beautiful, but also friendly and charming and usually are open for small talks and off-topic conversations.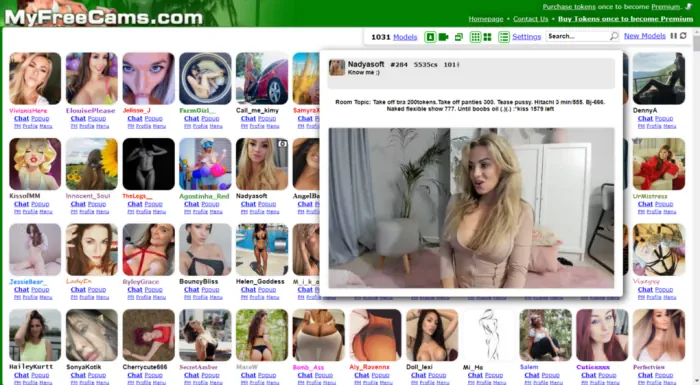 Website of MyFreeCams is quite old, but it doesn't distract from the fact that is one of the best place to go if you want to have an actual fun with webcam girls.
Very similar to BongaCams MFC is the website where you can watch both half-naked girls teasing you and inviting to private chats as well as already absolutely nude girls and women openly playing with sex-toys, masturbating and sucking dildos.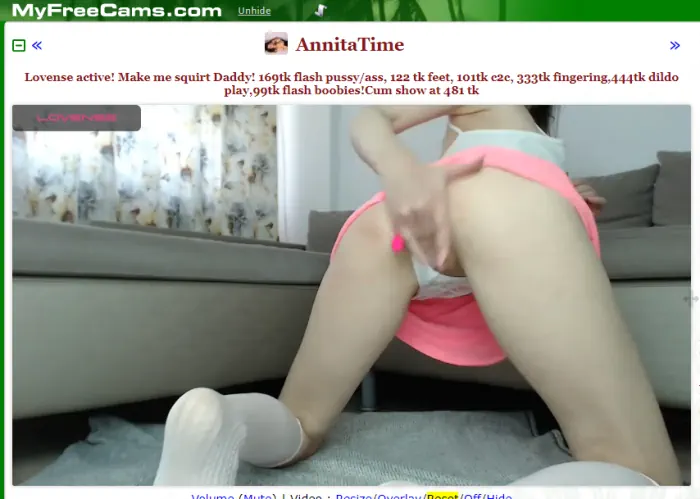 Pluses:
MFC is one of the best know and respected site with good choice of webcam girls of any age and ethnicity
On MyFreeCams you can also have an actual chat with girls and have a lovely conversation before you jump into live-sex-on-camera action
Registration on MFC is not required and you can keep watching as long as you want
Minuses:
MyFreeCams doesn't have a clear way to search for girls that like specific fetishes or have specific apperance
Read all about MyFreeCams and see what actual users have to say about it.
#1 Chaturbate
And finally - Chatrubate - the default go to place for anyone who want to watch live-sex cams for free, satisfy any fetish or have any wishes granted by all types of girls and guys using all kinds of sex-toys and doing it any manner you can dream of.
Chaturbate is the website that doesn't require introduction. It is de-facto the most popular and recognizable host of the sex webcams. On Chaturbate you can find literally anything - girls of any age over 18 years old, mature women, guys, gays, couples, transgenders, Latinas, Asians, Arabs, Eastern European, American, Ebony, group-sex, public-sex - you name it! And all of them are free to access from any point on the planet!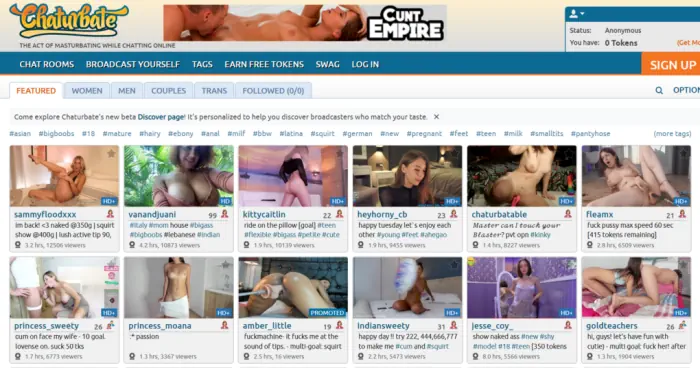 Chatrubate is basically every live-sex cam imaginable on one single website. You can find both amateur and professional webcam models. What we like about Chaterbate is that it's community-driven and just provides a platform for webcam models to be creative and use their pervert imagination to attract as many viewers and tippers as possible.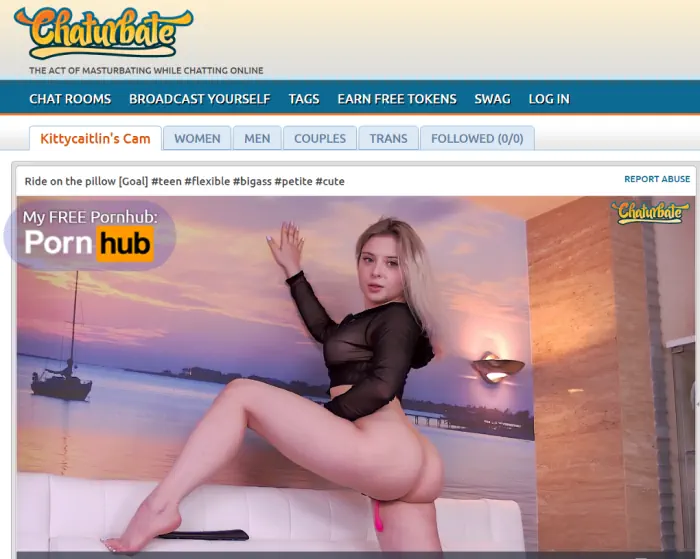 Chaturbate is also one of our trusted partners and we can recommend it literally to anyone.
Pluses:
The largest sex webcam community with thousands of online sex rooms;
High-quality video for free, no annoying ads or other distractions from webcam models
Community-driven live webcams - where you can find any girls and guys of any age as long as they are over 18 years old
Registration doesn't require a credit card or initial payment
Chaturbate is another example of a website with live sex-cams that has basically no downsides or bad things about it. Yes, the user interface looks old, but it can be considered classic and as any classic thing - it is timeless.
Read everything about Chaturbate and what other real users can tell about Chaturbate.
Final words about costs of watching live sex cams
We intentionally omitted pricing and costs of each website as we believe that it doesn't matter. What matters is how much satisfaction you can get on each website. And if you are not willing to spend few dozens of dollars to play with a webcam girl, then no live-sex cam service can satisfy you. But still, if you are looking to watch live sex cams for free - Chaturbate, Stripchat and MyFreeCams should server you well.
Cheers and till the next time!
This story was exclusively prepared for Erotic Audit by Matt
last updated at 2021-10-08
Tags: