BentBox
the platform to sell and buy erotic photos and videos
What is BentBox
BentBox is a simple and concise media selling platform where you can sell and buy photos and videos. BentBox is free for both sellers and buyers.
Main features:
Ability to buy and sell media content
Stream page, similar to Instagram feed to showcase the work and get immediate attention
Different payment methods and simple charging mechanism
Evaluation
Overall rating

5 out of 5

User interface

Excellent user experience. Easy to navigate and use.

User experience and product quality

Honest and user-friendly service without dubious intentions and deceptive offers. Clearly cares about users.

Content

Unique and unmatched high quality content.

Safety

Excellent safety. Best practices and high standards.

Support

24/7 both technical and user support. Super-friendly and always helpful.

Pricing

The service is absolutely free!
BentBox is good at

Simple platform where you can buy and sell photos and videos with ease
Very user friendly design without features overdose
Stream page with the feed of the latest posts - convenient for both publishers and buyers
Relatively fresh platform, which is good for new publishers who are not ready for big exposure
BentBox is bad at

Currently no downsides found (as of September 2021)
Detailed audit of BentBox
Main point - make money selling your photos
Regardless if you are professional photographer, use expensive camera and equipment or just make some nude selfies occasionally or film how you tease yourself in the morning waking up extra kinky and naughty. It doesn't matter, if you want to make money online just by uploading few of your pictures or videos - BentBox will help you with that. And most importantly it doesn't require much of your personal data and phone number.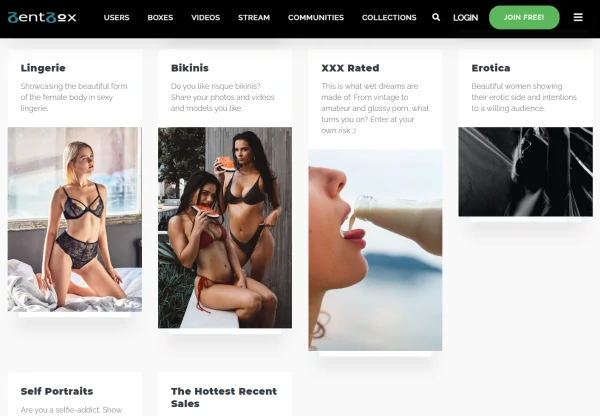 That means - it's not a social platform where your personal info can eventually be exposed to your friends and family. You can just post anonymously and your won't know who is buying your media material. But you will still get paid. And it's for you to decide how much your erotic photos or videos will cost. And believe me - there is no such things as too expensive nudes. There are always people who are willing to pay a good money to get their sexual needs satisfied.
Comparison with other media marketplaces
While there's basically countless number of online places where you can sell or buy erotic photos, we still think that BentBox is something special among them. However let's compare BentBox with some of the most well know.
OnlyFans
OnlyFans is probably the most popular and well-known places to sell nudes, erotic or even porn. However in the light of recent news about OnlyFans banning sexually explicit materials - personal porn dealers started to look into other directions. And BentBox is one of them. Also, having that BentBox is quite a new place for media sellers - it means that you can become an aborigine and earn yourself popularity buy just being there from the beginning. Also OnlyFans thrives on celebrities and influencers, as basically any other social platform out there. And if you don't want to become unnecessary famous or recognizable - BentBox is a better place to start.
ManyVids
Even though ManyVids might appear as a place to sell personal videos or photos, in reality is basically the Pornhub Premium. To be honest it has few things to do with art and erotic. Another thing - it has webcam streams and if you look very closely it aims to become just another live sex platform. So, if you more into art, erotic, sexuality and want to attract those who appreciate classical beauty then BentBox will server you well.
BentBox Stream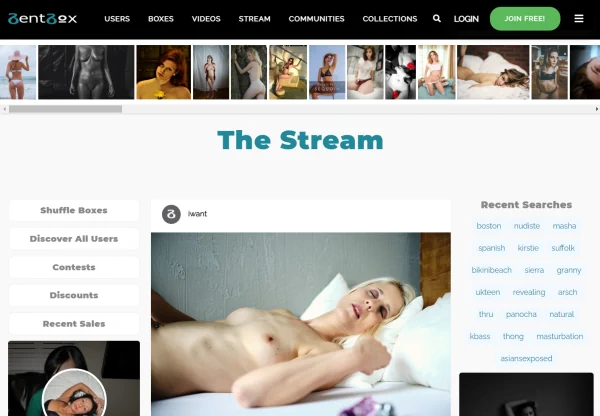 One of the best things about BentBox is the stream page. Visually it reminds Instagram feed and it shows the latest works submitted by creators. It means, that if you choose BentBox - you will get immediate access to everyone eyes and will have a chance to attract everyone to your photo or video by just posting it.
Payment mechanism and methods
BentBox charges are very simple - it adds it's fee to your original price. So if you put the price of $10 for the user it will be $10.9 and you will receive all your $10.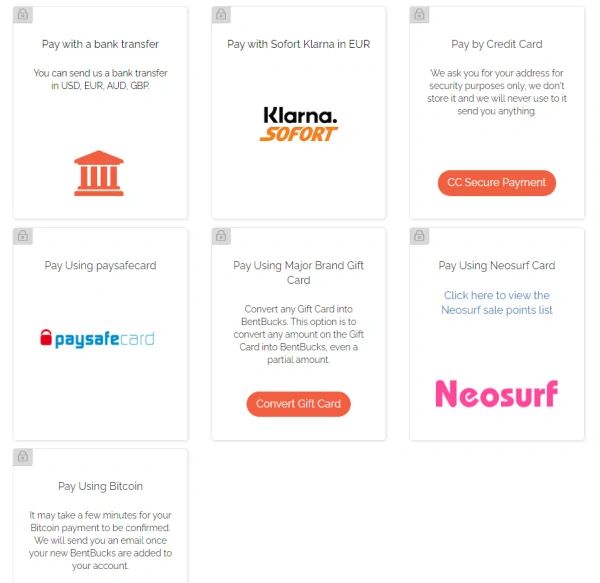 With payments methods - BentBox supports many payment options such as credit card, BitCoin Neosurf and other gift cards, and even wire transfer (no kidding).
User submitted reviews about BentBox
submit your story and it will appear here
Submit your story about BentBox
You can share your personal experience with BentBox. We don't collect any data from you (such as geolocation, IP address) and guarantee that your personal info will stay anonymous.
Audit conclusion
Erotic Audit considers BentBox a safe choice of Adults-only social platforms and is worth visiting. Follow the link below to get safe access to BentBox website.
Safely visit BentBox.com
BentBox alternatives
Even though BentBox deserves to be considered one of the best Adults-only social platforms, we still have prepared for you a few other alternative Adults-only social platforms that are just quite like BentBox, but can be better for you for one or another reason.
BIMBIM allows to watch live stories and webcam shows from young and sexy girls from all over the world. On BIMBIM you can chat online and access erotic and sexy photos and videos from both professional and amateur sex-cam models.

BIMBIM is good at
New and original product from well-know company
Seductive and impossibly appealing design and high quality features
Many outstanding girls with cute smiles and sexy bodies

---

On LoyalFans you media-content creators can earn money from fans and followers by selling access to photos, videos and audio records. Well suited for artists, actors, especially in adult-entertainment industry as well as influencers and celebrities.

LoyalFans is good at
Many popular porn-stars and sex industry workers with lots of exclusive content
Direct communication with celebrities and models - get to know your idols personally
Absolutely user friendly and easy to use both on desktop and mobile

---
view all 4 similar Adults-only social platforms
This audit was exclusively prepared for Erotic Audit
last updated at 2021-09-07
Tags:
Related stories
In the wild world of websites with live webcams with nudity, masturbation and sexting, sex-toys it can be hard to find the best website to watch naked girls and guys. Erotic Audit went spent months to prepare this comprehensive list of the best websites we can recommend to watch live sex cams and erotic shows.

---

read story · last updated at 2021-10-08

The carefully and mindfully prepared rating of the best live sex cams sites with the hottest and sexiest webcam girls and attractive naturally beautiful women.

---

read story · last updated at 2021-09-19

In light of recent news about Onlyfans plans to ban pornographic content, Erotic Audit introduced new category - social networks for adults that about to replace Onlyfans once and for all.

---

read story · last updated at 2021-08-09