ManyVids
e-commerce adult community and platform for online sex monetization
What is ManyVids
ManyVids is the adult community where media content creators can sell their work. ManyVids provide e-commerce platform oriented to online sex monetization. It is basically Twitch and Patreon combined, but oriented for adult-entertainment industry.
Main features:
Buy and sell amateur sex videos
Live sex videos and streams from amateurs and professionals
Videos of many different categories, kinky, BDSM, fetishes, femdom etc
Subscription platform, fan page and "fund me" campaigns
Evaluation
Overall rating

5 out of 5

User interface

Excellent user experience. Easy to navigate and use.

User experience and product quality

Honest and user-friendly service without dubious intentions and deceptive offers. Clearly cares about users.

Content

Good quality content, however you can find better.

Safety

Excellent safety. Best practices and high standards.

Support

24/7 both technical and user support. Super-friendly and always helpful.

Pricing

Pricing is fine. However we can suggest more affordable alternatives for the same features.
ManyVids is good at

Innovative and charismatic rapidly growing online and live sex platform.
Very intuitive and user friendly design and features.
Different options and ways to earn money.
Active community of over 3 million users with over 90 thousands publishers (as of September 2021).
ManyVids is bad at

You have to reveal your real identity when registering as a seller. It means that you cannot even try it before sending your real personal info. But I guess it's pretty common among online sex monetization platforms.
Many not attractive MV live webcam models. Sometimes even disgusting.
Detailed audit of ManyVids
Crazy front page
Which is ridiculously neat. That's exactly what I would expect from the platform that's on a mission to create an online community of judgment-free individuals who can support each other work by sharing the passion and love for sex and benefits of being open-minded adult.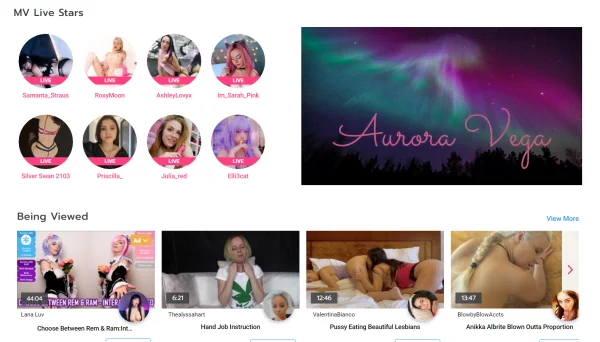 So when you see a video of a guy eating watermelon alongside with a fat kinky girl being fucked by a dildo that you can by for your personal collection for just 5 bucks- that's the sign you are on the front page of ManyWids.
What you can do on MV
As the name ManyVids suggest there's many videos and many of them are for sale. However selling your personal videos is not the only thing that you can do, because besides that MV allows you to:
sell many videos at once;
stream live and get tips in for of tokens;
sell subscriptions on your fan-site;
sell videos by personal requests;
arrange your personal "fund-me" page and get tips and gratuities from followers;
and many many other things, as MV is actively growing and introducing new features all the time.
Not very impressive webcam models on MV live
When I looked at MV Live, which is currently in beta, I noticed many attractive girls judging by profile picture, but when I started clicking around and watching the streams I was unpleasantly disgusted.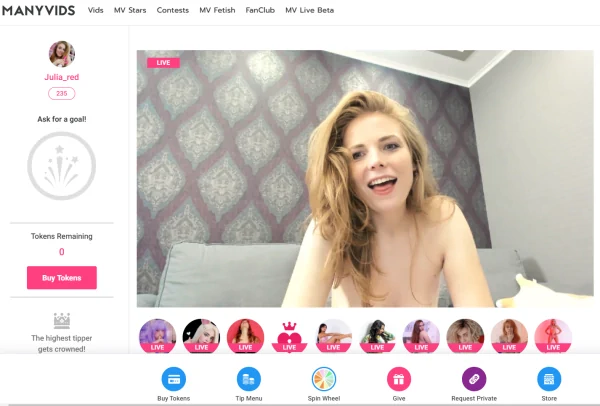 The quality of webcam models is so below the last page of Stripchat that I had to close some shows immediately because of home much my mood was dropping. So, if you are a good looking lady who considers earn money online by becoming a webcam model- ManyVids might be a good place to start, because you will definitely outshine current models, at least as of September 2021.
ManyVids - reliable future investment for online sex workers
Having that many live sex cams platforms and pornographic sites are quickly becoming boring, new candidates to fill the gap of the lost interest to the regular porn are appearing on the horizon of the modern needs. Yes, everyone can buy a private show with a sexy teenage-looking webcam model, but there not so many of them. Because webcam industry is filled with borderline live porn shows that everyone is happy to jerk too. And having ManyVids trying to bring on the arena something esthetic and kind of even romantic is quite refreshing to see.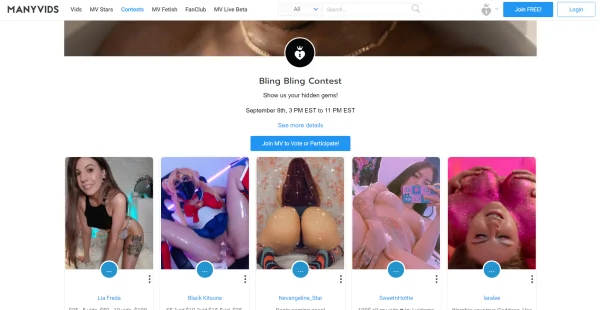 Especially considering that they want to actually build a community and as for September 2021 it appears as they are quite succeeding. So, joining ManyVids for a new webcam model or actress seems as a no-brainer.
User submitted reviews about ManyVids
submit your story and it will appear here
Submit your story about ManyVids
You can share your personal experience with ManyVids. We don't collect any data from you (such as geolocation, IP address) and guarantee that your personal info will stay anonymous.
Audit conclusion
Erotic Audit considers ManyVids a safe choice of Adults-only social platforms and is worth visiting. Follow the link below to get safe access to ManyVids website.
Safely visit www.ManyVids.com
ManyVids alternatives
Even though ManyVids deserves to be considered one of the best Adults-only social platforms, we still have prepared for you a few other alternative Adults-only social platforms that are just quite like ManyVids, but can be better for you for one or another reason.
BIMBIM allows to watch live stories and webcam shows from young and sexy girls from all over the world. On BIMBIM you can chat online and access erotic and sexy photos and videos from both professional and amateur sex-cam models.

BIMBIM is good at
New and original product from well-know company
Seductive and impossibly appealing design and high quality features
Many outstanding girls with cute smiles and sexy bodies

---

On LoyalFans you media-content creators can earn money from fans and followers by selling access to photos, videos and audio records. Well suited for artists, actors, especially in adult-entertainment industry as well as influencers and celebrities.

LoyalFans is good at
Many popular porn-stars and sex industry workers with lots of exclusive content
Direct communication with celebrities and models - get to know your idols personally
Absolutely user friendly and easy to use both on desktop and mobile

---

BentBox is a simple and concise media selling platform where you can sell and buy photos and videos. BentBox is free for both sellers and buyers.

BentBox is good at
Simple platform where you can buy and sell photos and videos with ease
Very user friendly design without features overdose
Stream page with the feed of the latest posts - convenient for both publishers and buyers

---
view all 4 similar Adults-only social platforms
This audit was exclusively prepared for Erotic Audit
last updated at 2021-09-07
Tags:
Related stories
In the wild world of websites with live webcams with nudity, masturbation and sexting, sex-toys it can be hard to find the best website to watch naked girls and guys. Erotic Audit went spent months to prepare this comprehensive list of the best websites we can recommend to watch live sex cams and erotic shows.

---

read story · last updated at 2021-10-08

The carefully and mindfully prepared rating of the best live sex cams sites with the hottest and sexiest webcam girls and attractive naturally beautiful women.

---

read story · last updated at 2021-09-19

In light of recent news about Onlyfans plans to ban pornographic content, Erotic Audit introduced new category - social networks for adults that about to replace Onlyfans once and for all.

---

read story · last updated at 2021-08-09